AFGES
Created in 1986 by renowned experts in bank accounting, AFGES is a major player in financial services sector training in France.
AFGES unites more than seventy-five instructors who are all recognized experts with a passion for professional training.  We provide training at our clients' premises, by videoconference or in our own training rooms equipped with the latest interactive technologies, just a stone's throw from the Arc de Triomphe in Paris.
Our clients include the biggest names in the banking sector in France (BPCE, SG, Crédit Agricole, BNPP, ACPR, etc.), numerous audit firms as well as the main public financial institutions. They trust us to provide training of excellence from a rich catalogue of more than 155 courses to develop their teams' expertise.
In order to provide the recognition our participants deserve and partnership with the CNAM and the University Paris Dauphine, AFGES has set up courses of study leading accredited certifications.
The AFGES has been certified since 24/02/2020.
Article 6 of Law n°2018-771 of 5 September 2018 on the freedom to choose one's professional future provides for an obligation to certify, by a third party organization, organizations carrying out actions contributing to the development of skills on the basis of a single national reference system, if they wish to benefit from public or mutualized funds. In other words, from 1 January 2022, the DataDock will disappear and training bodies will have to be certified by a certifying body on the basis of a National Quality Reference System.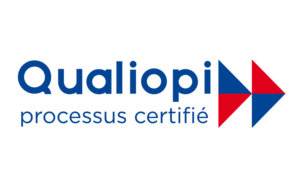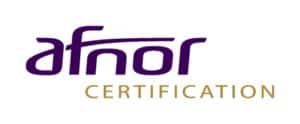 Find out more about AFGES in the sections below.
---
AFGES Morocco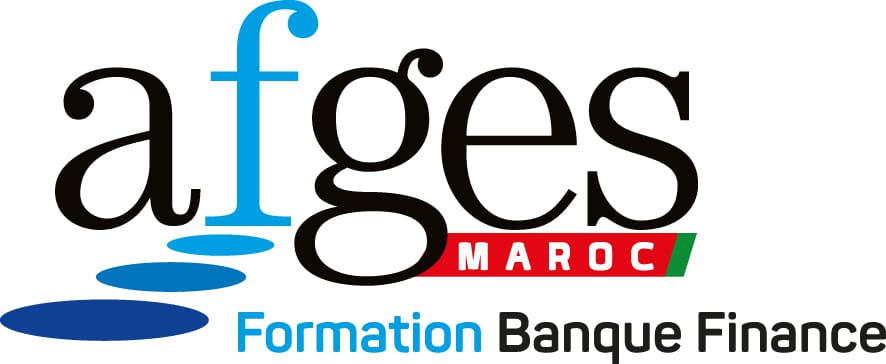 On 23 February 2016, we created AFGES Morocco.
As an invoicing subsidiary, this entity has a twofold objective:
Getting closer to our Moroccan customers,
To enable them to have their training courses taken over by the FOPT.
While continuing to offer quality training and remaining competitive.
AFGES in Luxembourg and Monaco
The biggest banking and insurance references in the Luxembourg and Monegasque financial centers trust us.
We regularly work on Anti Money Laundering, Accounting, Internal Control, Basel 3, Solvency 2, IFRS 17, IDD, GDPR, MIFID, etc…
Two main modes of intervention :
Presential with intra-company & inter-company.
Online with e-learning & virtual classes.
We train in French and English.
Our trainers are experts and trained in local practices and regulations.
Particularly attached to the quality of our training courses (98% satisfaction rate), we offer you training courses at the fairest price.
During the COVID period, all sessions in Luxembourg, Monaco and abroad are kept apart from 2 participants.
---
Our assets
The AFGES: a training center on a human scale
Our fundamentals: listening, respect for commitments and responsiveness.
Our driving force: excellence.
Our management: high performance, rated G3+ by the Banque de France.
The AFGES: an expertise recognized since 1986 by the world of banking, finance and insurance
An in-depth knowledge of the field.
A permanent anticipation of the training market demand.
At the cutting edge of accounting and regulatory information and news.
Reference works written by our facilitators and associates
The AFGES: a thoughtful response to the specificities of the banking, financial institutions and insurance professions
Development of 5 certifications:
Development of 2 certifications for the ACPR and the Banque de France

The certificate of expertise in non-conformity risk control.
The professional certificate in risk management and permanent control.
The AFGES: a competent, close-knit and dynamic team
Priority: the quality of our services.
Respect of our partners' deadlines and process.
Objective: to go beyond the 95% satisfied customers (2014 study).
The AFGES: a training center with an international dimension
Coordination and organization of training projects abroad.
Training courses in English on almost all subjects.
Partners in several countries around the world.
---
Our expertise in banking and insurance
Bank accounting.
Banking context and regulations.
Prudential requirements and financial reporting.
Audit and control/risks.
Corporate and bank finance.
Banking management control.
Banking taxation.
Asset management.
Payment systems and means of payment.
Training in English on almost all of these topics.
Videoconferencing, video-conferencing, e-learning, microlearning
---
Our ethical charter
Integrity, ethics, respect for individuals, transparency and societal commitment are fundamental values of AFGES in the conduct of business.
Our ethics charter applies to all our partners, employees and facilitators as well as to our supplier partners and beneficiaries of our training with whom we wish to share the principles and values that should guide everyone in the daily practice of their profession.
---
Our customers
The Banking, Finance and Insurance sector:
Accountants, management controllers, auditors, inspectors, internal controllers, UCITS and management company controllers, tax specialists, managers, treasurers, managers and also front office managers: account managers, sales representatives, analysts, etc.
Statutory Auditors.
We have the confidence
Some of the biggest names in the banking sector: BPCE, SG, Crédit Agricole, BNPP, ACPR, LBP, CIC, HSBC, NSMD…
Credit institutions, financing organisations, public financial institutions: Caisse des Dépôts, Crédit national, Agence française de développement, Caisse d'amortissement…
More than 60 foreign banks: Belgium, Switzerland, Luxembourg, Portugal, Greece, Morocco, Tunisia, Algeria, Haiti, Lebanon, Rwanda, Burundi, Cameroon…
Numerous audit, auditing, consulting and organization firms.
Computer software companies such as SOPRA and MUREX.
---
Our teaching team
The AFGES pedagogical team :
5 department managers.
75 trainers.
Our facilitators
75 experts who are passionate about vocational training and the transmission of their knowledge.
Modern interactive teaching methods based on empathy, questioning and challenging.
State-of-the-art teaching materials distributed to participants.
Spacious training rooms equipped with interactive whiteboards for recording and playback of notetaking at the end of the training.
A growing range of modules in video training, e-learning and microlearning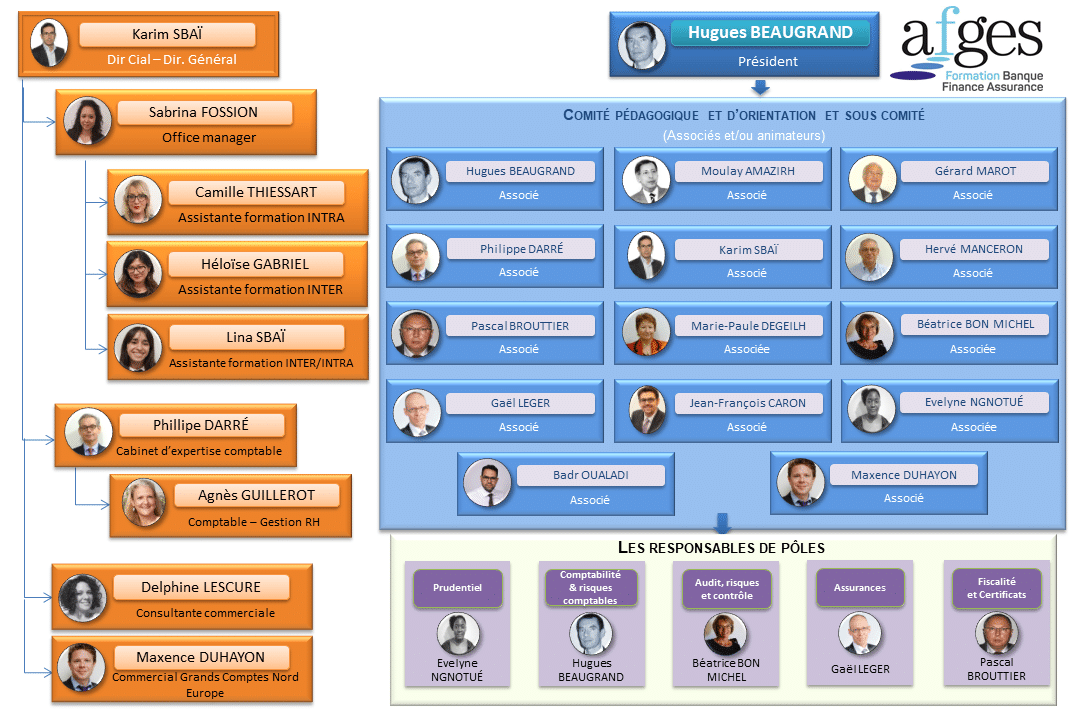 ---
Our partners
OCBF
This independent professional association, anchored in the financial center, organizes meetings between the General Management of the banking and finance world.
It has been negotiating training sessions for its members with the AFGES for more than sixteen years.
ADICEF
With around one hundred members, ADICEF brings together representatives of the main credit institutions in the market. Its members include professionals who are strongly committed to the IASB's accounting rule-making processes and who participate in international, European and French working groups.
The vocation of ADICEF is :
To promote the information of its members by organizing exchanges, ideas and experiences.
To study with its members the accounting, financial, regulatory and prudential problems of a banking nature.
To set up a think tank for the profession vis-à-vis the banking and accounting supervisory authorities.
To promote the accounting function in credit institutions.
To develop contacts with other associations in France and abroad.
To organize events aimed at developing exchanges with the various partners of the banking profession.
The Association is thus led to mobilize its members to participate actively in the work carried out by national and international accounting standard-setting bodies, which are particularly active at present.
Global Finance Algeria
This consulting and training company specializing in banking professions has a network of training consultants, either its own or affiliated to the AFGES. The menu of its didactic training courses or its quality advice: risk management, banking accounting and regulations, IFRS, corporate finance, trade finance, Islamic finance…).
Performium France
His specialty: Risk Management & Customer Relations in the Banking & Insurance sector. With its expert consultants and those of AFGES, it organizes Consulting – Training – Recruitment missions.
With the AFGES, it sets up training courses in the North and East of France and in the Benelux.
ARTIPS
Artips is a website that offers Internet users the possibility to subscribe free of charge to receive three times a week in their mailboxes a newsletter with a short and original explanation of a famous or little-known work of art. 

FORMALEARNING
FormaLearning creates teaching resources and proposes innovative and tailor-made digital training solutions.
EVALBOX
Professional knowledge management and assessment platform that allows you to build online or paper-based MCQs.