Our offer
AFGES designs tailor-made training courses adapted to your specific needs.
At  AFGES, this process has  five key stages:
Diagnosis: current situation, operational objectives, profile of the employees concerned, your challenges, your constraints.
Implementation of pedagogical engineering: development of an extremely detailed training plan under the supervision of the selected trainer.
Logistical organization of the training: adaptation of the materials to your graphic chart if necessary, reprography of the materials, room hire, etc.
Facilitation of the training.
Evaluation of the achievement of training objectives.
Our trainers work both in France and abroad, in French or English.
---
Bespoketraining
On request, AFGES creates original training courses specifically adapted to the needs of its clients. These training courses call upon our best experts and can be carried out for two or more participants. Please consult us with your project.
Here are a few examples of training courses not included in the catalogue which can be taken as they are or to be adapted:
Bank accounting
Advanced accounting for industrial and commercial companies.
Statutory Auditing of credit institutions.
Mergers: Legal, tax and accounting
Insurance accounting
Introduction to actuarial studies for life insurance.
Initiation to actuarial studies for non-life insurance.
The actuarial function under Solvency II.
Data quality under Solvency II
Banking context and regulation
Balance sheet and income statement.
The role of a Central Bank and the modalities of its interventions
Prudential requirements and financial reporting
Credit risk modelling and stress tests.
Audit and control, Risks
Cybercrime.
Audit of the qualitative and accounting reporting of credit institutions.
Audit of Treasury.
Audit the ICAAP report.
Audit of Basel III.
Audit of VAR.
Audit of ALM.
Compliance audit.
Audit of internal credit risk models.
Audit of interest rate and IRRBB products.
Audit of Money Market and Bond products.
Investigative interview techniques.
Documentary fraud.
Master Excel in the audit, control and risk functions.
IS Audit process.
Governance and management of information technology.
Acquisition, Development and Implementation of Information Systems.
Operation and Management of Information Systems services.
Protection of information assets (information security).
IT project management.
Audit of small subsidiaries (workshop based case study).
Corporate and bank finance
Project finance.
Documentary credits.
Reform of mortgage contracts.
Analyze a dealer balance sheet.
Liquidity, financing and bank refinancing.
English vocabulary for the banker.
Management control
Advanced  bank management accounting.
Taxation
Holding companies: legal and fiscal principles.
For further information:
Karim SBAI
Sales Director
01 70 61 48 66 – 06 71 31 87 36
---
Room rental
Are you organizing an in-company training session and don't have a suitable room?
The AFGES provides you with spacious training rooms and on the first day:
Can accommodate from 2 to 15 participants.
Equipped with interactive LED screens for recording and playback of notetaking at the end of the training.
One of our rooms (Antoine SARDI) equipped with videoconferencing is ideal for distance learning.
Refreshments are available for your participants.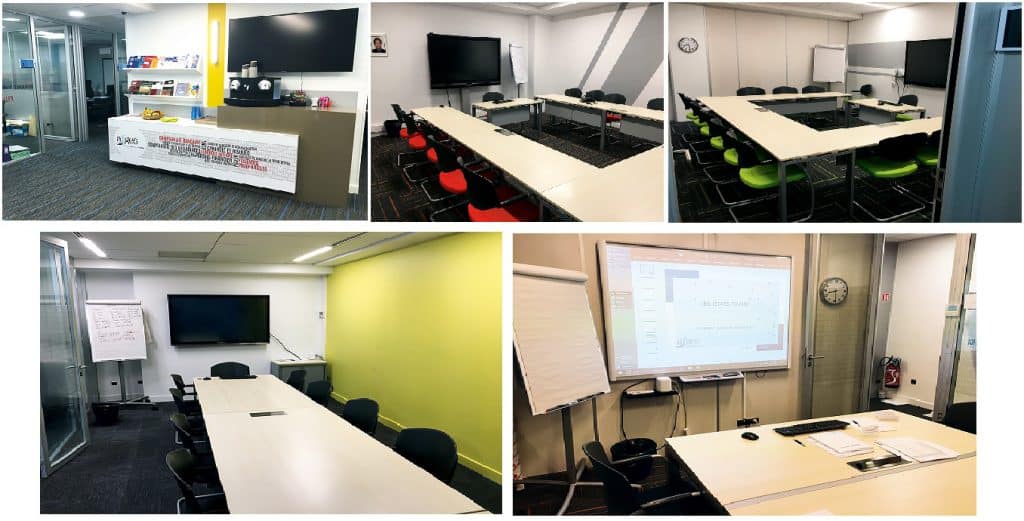 ---
One to One
Do you wish to strengthen the skills of one of your employees?
AFGES offers you:
Highly specialized personalized training courses.
Tailor-made one-to-one training courses that provide greater flexibility in relation to the defined program.
Trainers experienced in this style exercise
---
Our references
Each year, the AFGES organizes more than 1,055 days of tailor-made training.
One third of these courses are personalized and contextualized.
Among the clients who have placed their trust in us:
Major French banks : BPCE, SG, Crédit Agricole, BNPP, ACPR, LBP, CIC, HSBC…
Credit institutions, funding organizations, public financial bodies including Caisse des Dépôts, Crédit National, Agence Française de Développement, the Caisse d'amortissement…
More than 60 foreign banks from Belgium, Switzerland, Luxembourg, Portugal, Greece, Morocco, Tunisia, Algeria, Haiti, Lebanon, Rwanda, Burundi, Cameroon…
Major audit and consulting firms.
Computer software companies such as SOPRA and MUREX.